Meet Amico, the family friendly home console
Looking for a home console that is not only fun but also super safe for the family? Take a look at Intellivision's E3 overview of Amico!
Amico (aˈmiko) means "friend" or "buddy" in Italian and that's what Intellivision aims for the Amico to be to your family. With a focus of bringing people together to have simple fun, the experienced team at Intellivision (first Intellivision console was released in 1979), have put together a system that will be enjoyable to play no matter your skill level, from gamer through to absolute beginner.
A unique video game system that's redefining entertainment with family and friends.
Amico comes with six premium, pre-loaded games, with additional games ranging from $2.99 – $9.99
No bad language, graphic violence/blood or sexual content – every game on Amico is rated E for Everyone or E10+
Gameplay adapts to your skill level
No ads, downloadable content, loot boxes, or in-game purchases
Extensive game library ranging from sports & recreation, educational & brain games, party games & retro classics, to your favorite table games — there's truly something for everyone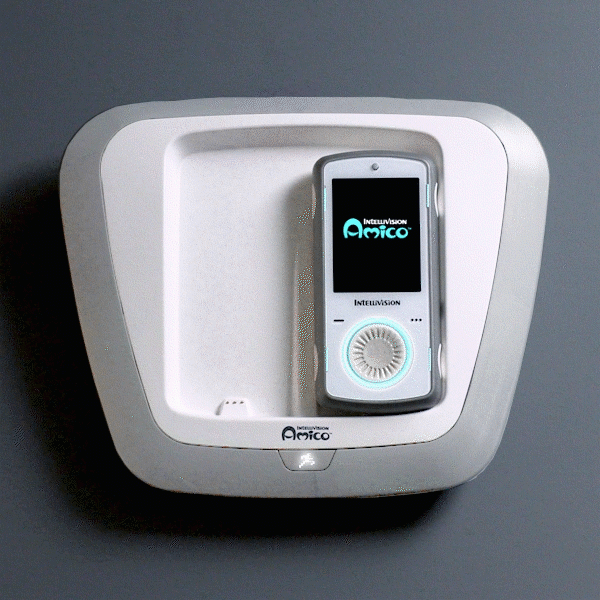 Feature-rich Controllers
The Amico controller is designed for functionality and simplicity — with a familiar touchscreen, disc, and motion controls, anyone can join in on the fun.
Wireless Automatic Charging
Simply place the controllers in the console and Amico takes care of the charging. This feature also doubles as a simple way of storing the controllers to keep things tidy.
Immersive LED Lighting
Amico uses unique lighting that not only makes for a fun and memorable gaming experience, but also helps guide players in an interactive way.
The Amico will cost around $249 USD at launch. which is set to be in October 2021, and will be available in major retailers in North America, Europe and shortly thereafter in other areas around the world. No word on NZ availability at this point.
For more information visit www.intellivision.com